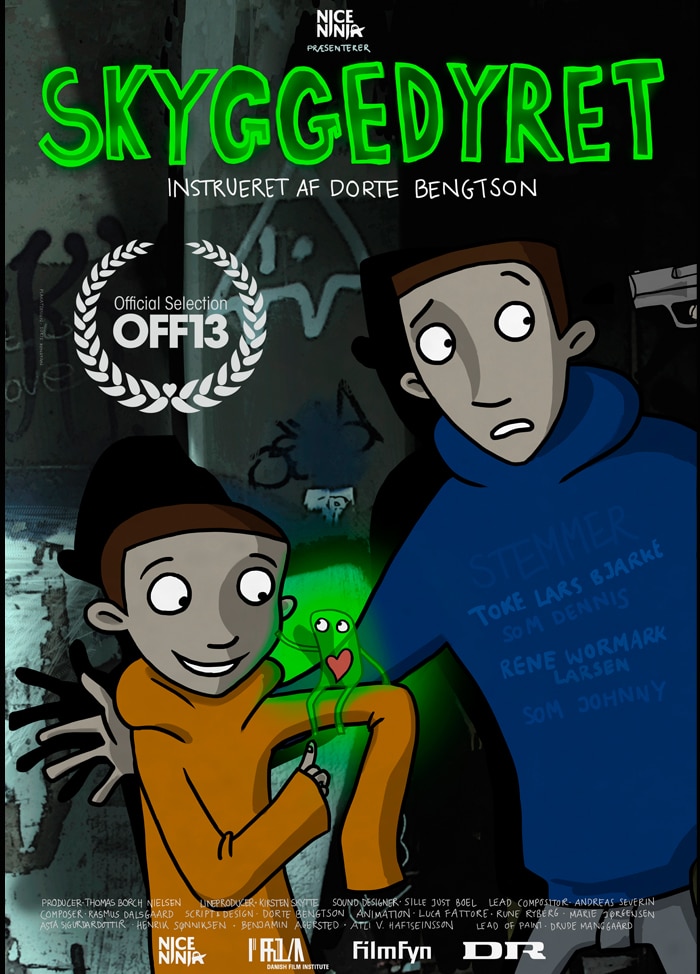 The Shadow Animal tells the story of ten-year-old Dennis who longs to be reunited with his father, whom he misses terribly. Dennis, and his older brother Johnny, share a tiny magical creature known as the 'Shadow Animal', who also happens to be Dennis' closest friend. Together, Dennis and the Shadow Animal follow Johnny down to the local park where Johnny's gang hangs out. The two brothers live in a tough neighbourhood in Nørrebro and on his way to school, Dennis has to escape capture by a rival gang. During his escape, Dennis learns that the rival gang is planning to execute his brother, and suddenly, Dennis and the Shadow Animal find themselves embroiled in a gang war over a hash deal. Dennis now faces a terrible dilemma; should he continue looking for his missing father or try and prevent Johnny from being shot?
The Shadow Animal is about living on the edge in a suburban gang environment, trying to find a way out.
Directors intentions:
I set out to make an exciting, entertaining animated film for children using a story that would really touch them.
Focusing on the gang wars and shootings that take place in Nørrebro and which children hear about in the media, I ask the question: 'What is it like living in the middle of it all?' I wanted to write a fictitious story seen from a child's perspective. At the same time, the film is a modern tale about the longing to once again become a family and the bond shared by two brothers.
In parts of the film, I use specific geographical references and stick close to reality. To strengthen the story, I have employed a kind of 'handheld' camera to create a documentary-like atmosphere and used photos of mini model sets and locations from Nørrebro as backgrounds. The film was animated using the computer program TV Paint.
Short story, 20 min.
Released 2013
Director and scriptwriter: Dorte Bengtson
Producer: Thomas Borch Nielsen
Original idea by Dorte Bengtson